How do I use my Buyee Service Fee discount coupon for an auction?
In order to use a coupon you must first acquire it. If there are any coupons that you have, go to Coupon Information under Activity in your My Page, and acquire them there.
1.
Please confirm that you have acquired the coupon you intend to use.
2.
Coupon Information > Not Received Coupon
Go to coupon page.
3.
Click "Get Your coupon!".
4.
Issued coupons successfully. Click the OK button to enter My page > Coupon information page.
5.
Click "Coupon information" > "Received coupon" to confirm the coupon.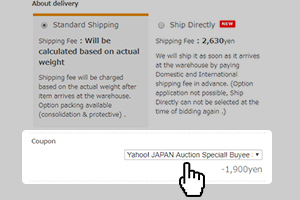 6. Please choose the coupon from the pull down bar, when you bid for the item.

Was this article helpful?
Thank you for your feedback. We'll use your feedback as reference.